---
Only 3 Weeks To Go!
06

Apr 2018

Dear Competitors, Spectators, Partygoers & Friends:

In three weeks-time we will be welcoming you to UNESCO designated Nelson's Dockyard for the prize giving of the Peters & May Round Antigua Race and opening parade of the 51st Antigua Sailing Week.

We have more than 100 entries already with some boats yet to enter. If you haven't entered (here's the entry link), or you have your entry in and haven't yet paid remember that next Friday 13th April is the last day to pay at US$12 per foot. After that date the entry fee increases to US$14 per foot.

We are busy putting the finishing touches on what will be a memorable seven days of sailing and partying. The skipper bags are being prepared and will be choc full of goodies. Bars and beaches are prepped … however, before you and your crew arrive, we thought we would send you a checklist – a few highlights and essential information.

We look forward to seeing you very soon and starting the next 50 years of Antigua Sailing Week together.

The SWAT
(Sailing Week Antigua Team)

RACE DOCUMENTS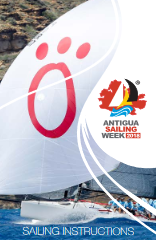 If you need to check out the Notice of Race, Sailing Instructions, Bareboat Rules and other important documents be sure to check into our Race Documents page. This will also be where we add any amendments should we need to up to and during the event so be sure to bookmark it on your cell phone now.
CREW WAIVERS
If you and all of your crew have already completed the Owner's Waiver and Crew Waiver Forms, please disregard the following:
It is essential that all participating yachts and each individual crew member complete the waivers before racing. One of the main reasons we require this information from all participants is safety. We need to know who is out on the water and what boat they are on. We are also part of the Sailors for the Sea Clean Regatta Programme and prefer all Waivers to be filled out electronically, thus reducing the amount of paper we use. Of course it also reduces the time taken to complete registration.
Click here to follow instructions.
APRIL 28 – THE PETERS & MAY ROUND ANTIGUA RACE & PRIZE GIVING PARTY
A Cultural procession of drummers, dancers and stilt walkers will get the party started leaving Antigua Yacht Club by 5.45pm. Dance or stomp your way along the road to the rhythmic beats and head to the Fever-Tree tent in Nelson's Dockyard for a Perfect Storm (look out for the bag of White ASW Gold in your skippers bags valid only between 6 – 7 pm), eat at the grills and enjoy a night of dancing to live music.
The entry list for the Peters & May Round Antigua Race is shaping up well with 41 boats already entered. Be sure to put your entry in if you intend to race.
NEW FOR 2018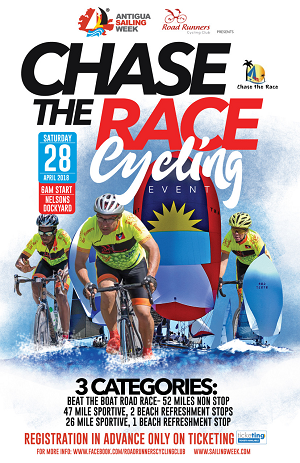 The 1st Annual Round Antigua Bike Race will take place on Saturday 28th April, the same day as the Peters & May Round Antigua Race.
Cyclists will start and finish at Papas by the Sea restaurant in Falmouth Harbour at 6am.
The event includes a Beat the Boat race, 52 miles non-stop road race around Antigua and a Sportive ride with two options, 26 miles and 47 miles.
The 'sportives' are non-competitive at a pace dictated by riders so anyone who loves to ride can join in with family and friends.
Entrants must pre-register on "The TickeTing Events App" by 25th April.
APRIL 29 – ENGLISH HARBOUR 5 YEAR OLD RUM COCKTAIL COMPETITION
While crews await for the day's race results, sponsors English Harbour Rum will be hosting their 3rd Annual Crew Bartender Competition which will provide some light entertainment and be a battle of crews to create the tastiest cocktail. Teams of 2 to 4 can enter for the chance to win a case of English Harbour 10 year old rum or a hand crafted 6 litre Oak Barrel full of English Harbour 5 Year Old rum. Definitely worth the work. Click her to enter your team.
MAY 1 – TAURUS RILEY TO HEADLINE REGGAE IN THE PARK
This is the 9th Reggae in the Park and every year it just gets bigger and bigger. And we are delighted that this year's headliner is the smooth, royal crooner Taurus Riley. His mega hit 'She's Royal' is one of the most played reggae songs in the world. There will also be music provided by two of Antigua's top bands – The Strays and Spirited featuring cricket legends Curtly Ambrose as well as DJs, food and drink. Reggae in The Park will be held in Nelson's Dockyard, located in the National Park, a UNESCO world heritage site.
Tickets are limited and in demand so it is a good idea to book ahead. Early bird tickets are available for EC$95/US$35 (available only on the Ticketing Event App). Once sold, main house tickets will be EC$120/US$45 and EC$150/US$55 for Lookout platform.
Tickets will also be on sale at the Box Office right up to the night of the concert. For people already in or living in Antigua tickets are now available from Townhouse Megastore, Harper's Office Depot (Village Walk & St. John's), The Source, Steph & Vlada's Studio (Jolly Harbour) and the ASW Office.
To buy your tickets now and collect at the ASW box office click here.
To buy online and use your digital ticket on the night download the Ticketing Event App for IOS or Android here.
TIME AWAY FROM THE SEA
Our event partners can help you out with all sorts of things:
SALTY DOGS ADVENTURES
Crew have an off-day then make time to explore Antigua with an off-road tour in a shaka buggy with our partner Salty Dogs Adventures, see historic and nature landmarks. Book them at www.saltydogsrentals.com
IS YOUR BOTTOM CLEAN?
If not, Maurice Underwater Services is your man. Not only the hardest working man in underwater services, but you'll be sure to seem him out and about at the parties. www.facebook.com/mauricediversanu
SEAHAWK BOTTOM PAINTS
Of course good preparation is everything so ensuring you have your bottom covered with the best paint. Seahawk Paints are a great option for you. Check them out. www.seahawkpaints.com
NEED A RENT A CAR
For many people Titi Car Rental has been the go to company for many returning visitors to ASW over the years. But if you are new to Antigua, be sure to give him a call to organise your vehicle. He also has an excellent fleet of pick-up trucks if you need to move sails and equipment around easily. www.villaordnance.com/rentacar.html
NEED LEGAL ADVICE?
hopefully not because of ASW, but our legal advisors, Campbell & Associates are well placed, with an office in English Harbour, to assist you with legal matter, especially of a marine nature. Call 722-4449 or email kcampbell@candw.ag.
START THE DAY WITH COFFEE?
As most of us do, then be sure to enjoy the Caribbean Coffee Roasters sample of Full on, Foam Up Brew (thank you for the name Louay Habib) that you will find in your skippers bags and if you happen to go to the committee desk any race day morning you will also be able to enjoy a complimentary cup of coffee. www.caribbeancoffeeroasters.com